Statistics 2023
GPlay imports
This year: 736,721 apps
Last month: 66,237 apps
This month: 52,004 apps
Today: 1,086 apps
If you plan to create an application site, then Appyn is for you since it is developed so you can upload information from Android applications. It has several options for you to add the app's data, video and images.
Mod apps search
Search and import the applications with their download links directly without saving to some other server.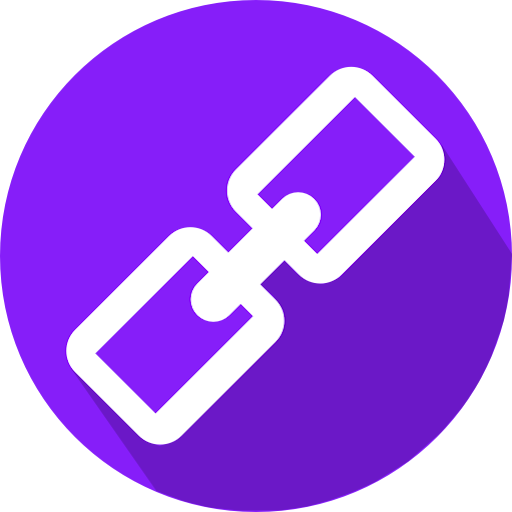 Shortlinks
You will be able to shorten your download links automatically after import. This option allows you to choose between 5 shorteners, just enter your API Key and start importing!
This will generate an extra income 😉
Pagespeed
We are concerned about the speed of the Appyn theme, as this greatly influences the results of Google and of course the user. We have optimized the theme so that it has the best possible speed.
Results of Pagespped for Mobile: (View test)

Results of PageSpeed for Desktop: (View test)

Results on Google
We know that – beyond being in the first position – the way in which a result is shown in Google also influences the user to click on it, that is why we use the stars in each post app so that they appear in the results of Google as the following image:


Do not you feel like clicking on the result? 😉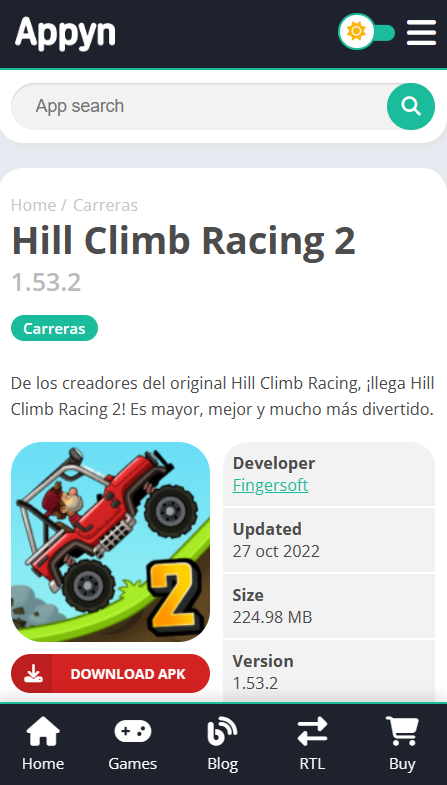 Optimized and Responsive
Adapted to any device
Optimized for perfect viewing on any device from a desktop computer to a mobile phone. Support for Retina images on Hi-DPI screens, we have designed every detail to ensure that your site always looks beautiful in any environment.
RESPONSIVE – Instantly adapts to any screen size.
OPTIMIZED – Fast charging, first mobile design.
RETINA READY – Clear and clear images on Hi-DPI devices.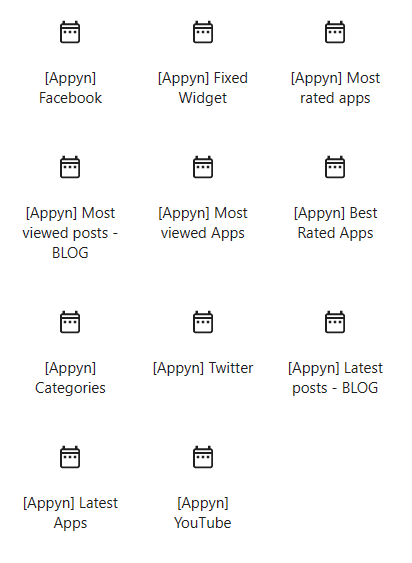 Eleven Widgets
totally different
The Appyn theme comes with its own widgets that you can place on the sidebar as well as in the footer.
Among these widgets we have the classics of Facebook, Twitter and to publish a YouTube video. So are the most rated apps widget, best rated, latest apps, most viewed apps, latest posts (blog), most viewed (blog), categories, and fixed widget.


Spanish and English
And support WPML
The theme is ready to be used in Spanish and English depending on the language that is configured on your website. In addition, it brings functionalities to be used with the WPML plugin.
Instant search engine + Ratings + Social buttons
Search engine: When we have dozens of posts and search for a specific application we use the search engine, in this case we have an instant search engine, which with just typing some letters will start to search and give the result without plugins.

Ratings: In each tab of the application you can qualify with 1 or 5 stars, as well as share it by clicking on the buttons of the various social networks.
Social buttons: Link your site with your social networks.
Google search engine: In recent versions you can implement Google results on your page.
Importer from Google Play!
The Theme comes free with a feature to import content from the Google Play. This will help you create your posts faster.
Starting from version 2.0.3 you will be able to upload APK files automatically to any external server (Google Drive, Dropbox, OneDrive, 1Fichier, Uptobox)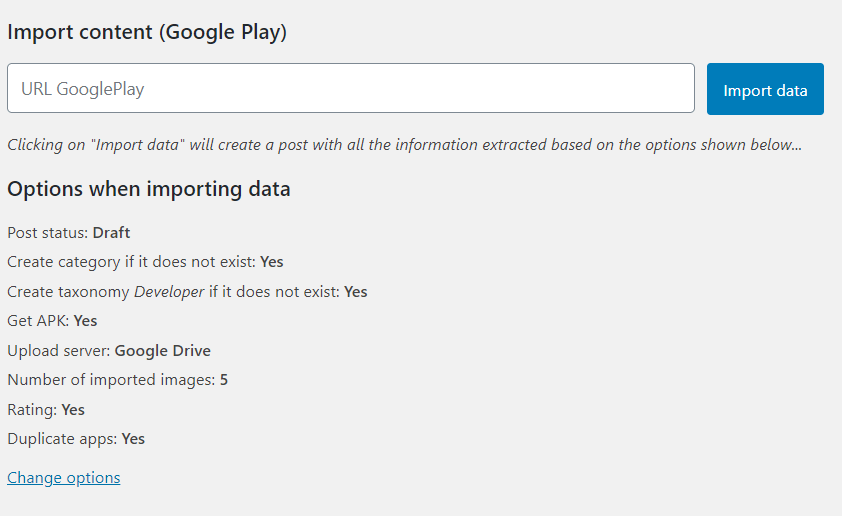 Placing the URL of a Google Play application and clicking on the Extract data button will automatically create a post with all information extracted from the Google Play app.
Here we leave a video where we use the function:
Upload APK files to
Google Drive, Dropbox, 1Fichier, OneDrive and UptoBox
As of version 2.0.3, the Appyn theme brings the option for you to connect your Google Drive or Dropbox account. In recent versions we have added servers like 1Fichier, OneDrive and UptoBox!
Now, when you use the content importer and it finds an APK file of the app, it will be automatically uploaded to the chosen server.
Clear or dark
Change the whole look of the Appyn theme by a light or dark design.
You can also modify the main color in the theme panel in a short time.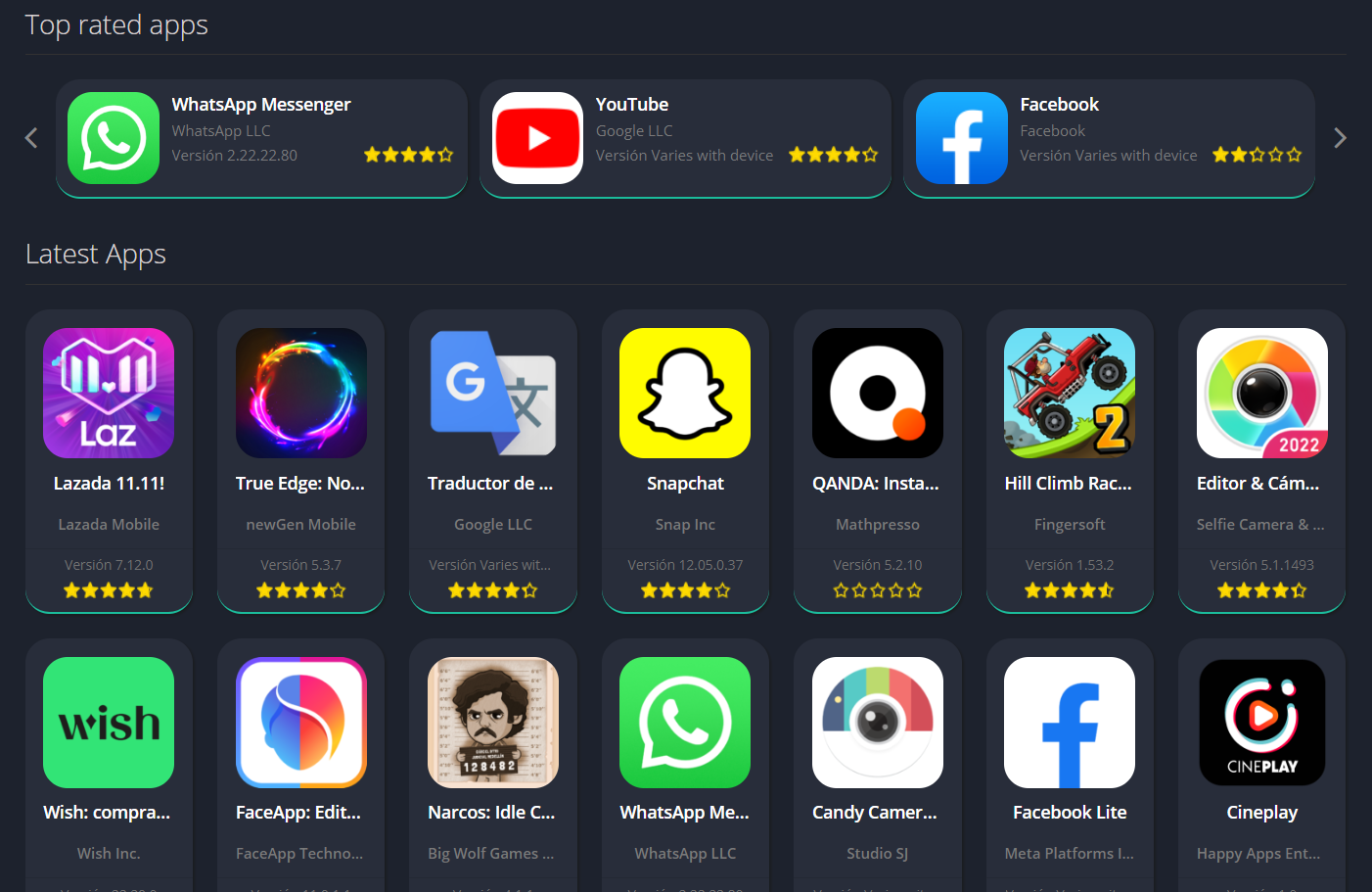 WooCommerce
Make your online store
Do you want to create a sales site? Our theme is integrated into the best known product sales plugin in the market.
RTL support
Not all market themes offer native RTL support (from right to left), this does it. View demo in RTL 🙂
Acelerated Mobile Page: AMP
Google tells us that the AMP pages that are published in search results use 10 times less data than normal pages, and also load in less than a second. More information.
Test AMP Home: https://search.google.com/test/amp?url=https%3A%2F%2Fdemo.themespixel.net%2Fappyn%2F%3Famp
Test AMP Post: https://search.google.com/test/amp?url=https%3A%2F%2Fdemo.themespixel.net%2Fappyn%2Fsweet-selfie-beauty-camera-editor-de-fotos%2F%3Famp
FAQ
Can I get all the APK's of the apps?
No, we use websites where the APKs of thousands of apps are stored, however, some of them may not be available (such as paid apps for example).
How many websites can i use it on?
You can use the Appyn theme on any of your websites. The built-in API to pull content from the Play Store is only available for a maximum of 5 websites.
Is there a limit to the use of the content extractor?
Yes, each client will be able to make up to 10,000 monthly requests.
How long does the license last?
The license is annual. With an active license you can get updates to the theme, support and use of the API Key.
Can i change the language of the theme?
It is currently available in Spanish (default language), English, Portuguese, Arabic and Russian. You can also add your languages ​​(See tutorial)
Can you make custom changes to themes?
We do not make custom changes. Once you make the purchase of the Appyn theme you can modify it to your liking.
Any more doubts? Write us to chat 🙂