A WordPress Theme for blogs. Build your information site. It is responsive, multi-colored and a good loading speed, etc.
Options panel
Thanks to the options panel you will be able to modify multiple elements of the theme such as logo, favicon, add codes and more.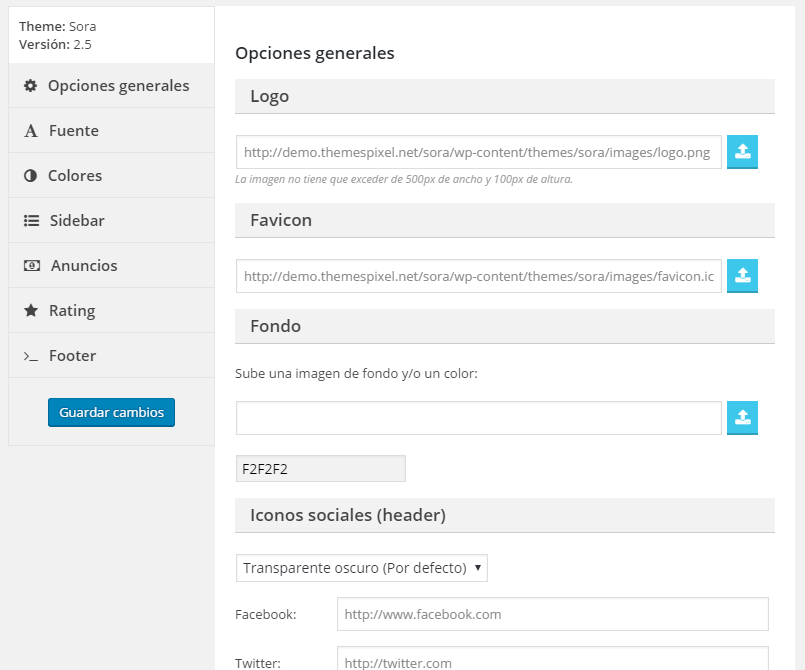 Many fonts
This option allows you to change the theme fonts thanks to Google Fonts.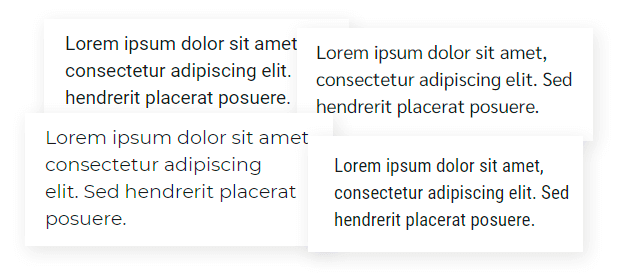 Customizable colors
You can change the colors as you want. You will simply click on the color box and choose the one you want.
We have more than five color options for the header, menu, menu links, footer, colors in general .
By modifying the colors of the different parts of the theme you can get an almost different design.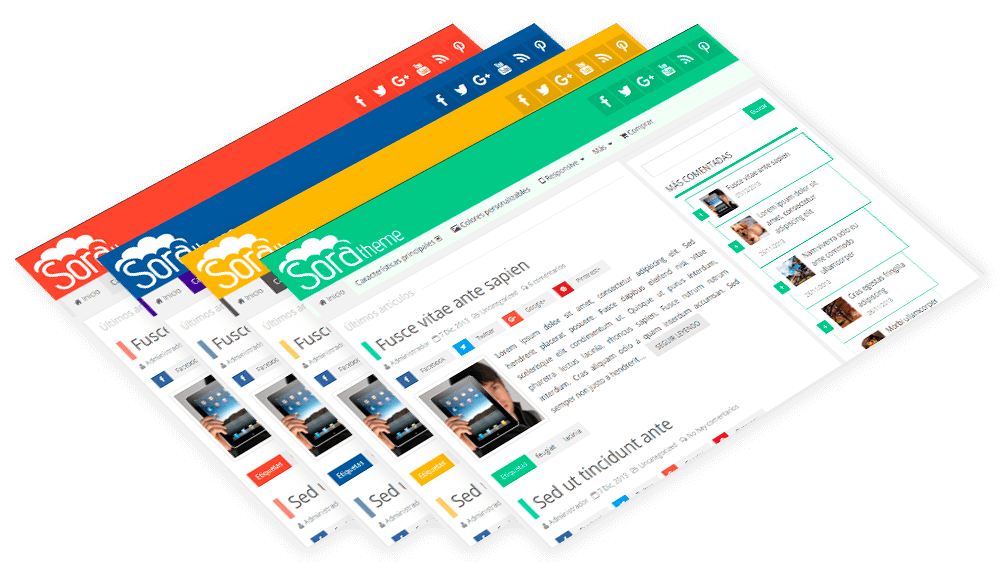 You see? If you have a network of blogs you can adapt the colors for each theme 🙂
Sidebar
Option to be able to change the position of the sidebar and place the widgets you want.
English and Spanish
And support WPML
The theme is ready to be used in Spanish and English depending on the language that is configured on your website. In addition, it brings functionalities to be used with WPML plugin.
Advertisements
Multiple ad units configured in different parts of the theme. You just add the code!
10 Widgets
The Sora Theme brings 10 widgets!
– Three social buttons for the blog (Facebook, Twitter y Google+)
– Button Twitter Follow Just enter the account username and the button will appear so you can start to follow!
– Google+ badge Place the URL of your Google+ page or profile.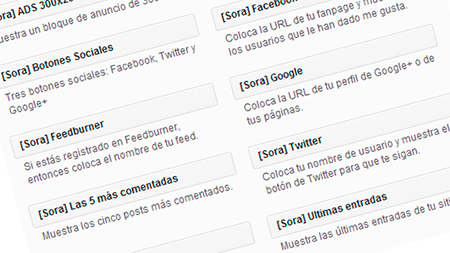 – Facebook box. Place the URL of your fanpage and show a box with 25 of your followers!
– Ad 300×250. Show an ad of that size.
– Ad 300×600. Show an ad of that size.
– YouTube video. Place the ID of any YouTube video and it will appear on your site.
– Subscription to FeedBurner. If you have a FeedBurner account just put the user of the URL and a brief description so that your readers can subscribe!
– Latest posts. Show the amount you want from the last entries. They will be displayed on all pages except home.
– The 5 most commented. Show the 5 most commented posts of your site.
Optimized and Responsive
Adapted to any device
The Sora theme has a adaptive design , which means that it can be seen very well for computers, phones and tablets.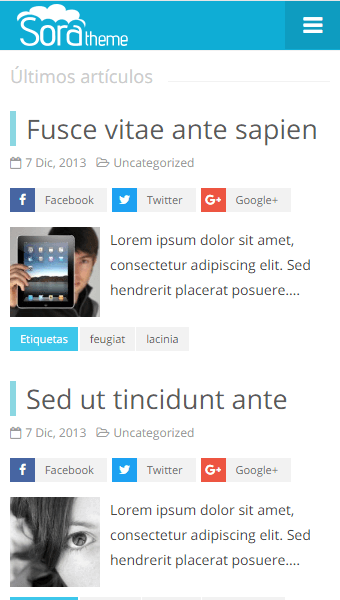 Footer
It modifies the default text of the footer and also adds extra code, for example Google Analytics.